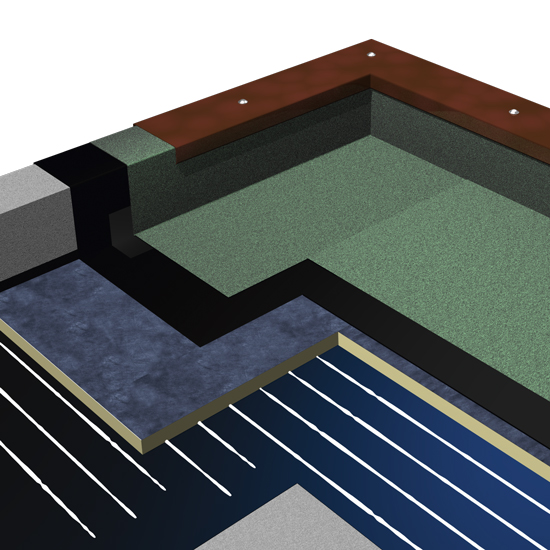 Technical Specifications
Prepare installation procedure
Screen or vapour barrier
Lay down STIFERITE'S Class B panel
(alternative: STIFERITE'S Class S)
Lay down two layers of mantle s, the first  made-up of a bituminous plastomeric polymer 4mm thick, reinforced in TNT with stabilized continuous string polyester. The second layer of bituminous waterproofing with Slate Chips and polyester fibre reinforcement, maximum weight ≥ 4 kg/m². 
Instructions and Guidelines
The Slate Chips' layer protects the waterproofing mantle from weather conditions and reduces the maintenance schedule to a minimum.
Always use high quality products and aim for a perfect installation of the entire "package".
The complementary products are indicated only as a good level of quality standard.
The installation can be made in several methods: Using adhesives or single-component polyurethane foam in a can, panels laid over a continuous and uniform coating of hot bitumen,  laid on to a torched liquefied bitumen vapour barrier, or mechanically fixed with anchors.
The tables indicate the suggested thickness of Stiferite's panels based on
Climate Zones
Current legislative set limits of thermal transmittance
And the following composition of the structure:

Suggested thickness
STIFERITE's Class B or Class S
Climate
Zone

DLgs 311/06

TAX deduction MD 65%
DM 26/10/2010

A
60 mm
70 mm
B
60 mm
70 mm
C
60 mm
70 mm
D
70 mm
90 mm
E
80 mm
90 mm
F
80 mm
100 mm
Note: For different composition of structures or material, we suggest using the calculation program available online (see: Thermal transmittance and verifications of condensation with Glaser method)