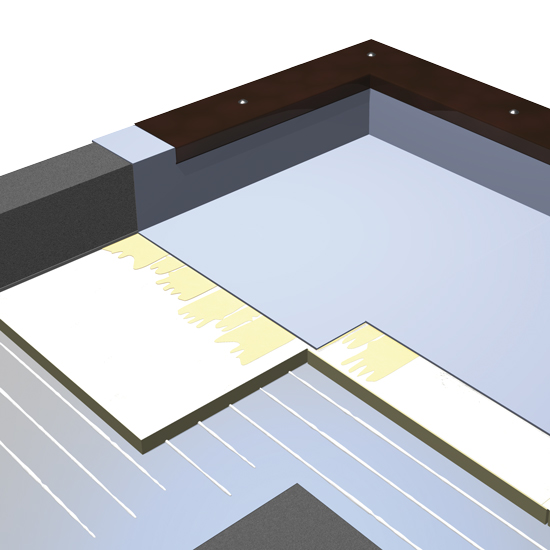 Technical Specifications
Prepare installation procedure
Screen or vapour barrier
Lay down STIFERITE's Class S
(alternative: STIFERITE's GT – STIFERITE's GTE)
Spreading of specific adhesive in-continue
Laying of synthetic membrane of ≥ 1,5mm thick, reinforced and stablelized  with self-protection from UV rays on the top surface and bonded to TNT of polyester on the bottom side
Instructions and Guidelines
Synthetic or bituminous membranes that are directly glued, may be laid down in various methods.

Mechanical fixing is recommended in synthetic membranes having low softening or melting temperature.

Always consult and verify with qualified and specialized personnel for specific type of applications and/or systems most suited. Also contact and obtain instructions from membranes' producers in regards to the specific methods and application most suited with their product.
The tables indicate the suggested thickness of Stiferite's panels based on
Climate Zones
Current legislative set limits of thermal transmittance
And the following composition of the structure:

Suggested thickness
STIFERITE's Class S
Climate
Zone

DLgs 311/06

TAX deduction MD 65%
DM 26/10/2010

A
60 mm
80 mm
B
60 mm
80 mm
C
60 mm
80 mm
D
80 mm
90 mm
E
80 mm
100 mm
F
80 mm
100 mm
Suggested thickness
STIFERITE's GT - STIFETITE's GTE
Climate
Zone

DLgs 311/06

TAX deduction MD 65%
DM 26/10/2010

A
50 mm
60 mm
B
50 mm
60 mm
C
50 mm
60 mm
D
60 mm
80 mm
E
60 mm
90 mm
F
60 mm
90 mm
Note: For different composition of structures or material, we suggest using the calculation program available online (see: Thermal transmittance and verifications of condensation with Glaser method)