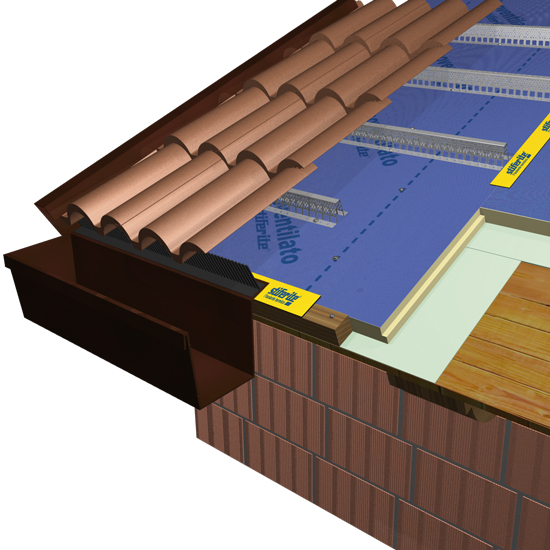 Technical Specifications
Positioning of the edge stop beam
Lay down STIFERITE's Isoventilato panel with laths perpendicular to the gutter.
Install panels using self-threading screws directly into the lath incorporated in the panel.
Seal the joining sections of the panels with waterproofing self-adhesive tape as protection against eventual formation of condensation.
Install galvanized iron profiles  3,8cm in height to facilitate micro-ventilation. The distance between each profile is determined by the type of tile used.
Lay down and install regular or clay tiles and ventilation elements (bird protector grill, ventilated ridge
Instructions and Guidelines
The waterproofing but breathable facer of the ISOVENTILATO panel prevents eventual infiltration even if  the roof is damaged.

The laths incorporated into the foam of the panel prevent the formation of thermal bridges.

The option to choose and adjust the distance of the profiles allows more choices of the type of tiles used.
The tables indicate the suggested thickness of Stiferite's panels based on
Climate Zones
Current legislative set limits of thermal transmittance
And the following composition of the structure:

Suggested thickness
STIFERITE Isoventilato
Climate
Zone

DLgs 311/06

TAX deduction MD 65%
DM 26/10/2010

A
70 mm
80 mm
B
70 mm
80 mm
C
70 mm
80 mm
D
80 mm
90 mm
E
80 mm
100 mm
F
80 mm
100 mm
Note: For different composition of structures or material, we suggest using the calculation program available online (see: Thermal transmittance and verifications of condensation with Glaser method)