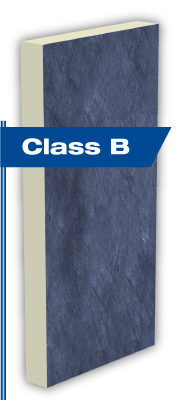 STIFERITE Class B a high performance insulation board manufactured from CFC or HCFC free closed cell Polyiso (PIR) rigid foam, covered on the top side by a bitumenous mineral fibre facer, ideal for hot torch applications, and saturated mineral fibre facer on the bottom side.
The Class B panel is suggested for roofs under bituminous waterproofing mantles and where high resistance to a flame torch is required.
Dimensions:
mm 600 x 1200
Standard Thickness:
from 30 to 140 mm
Available in Class BH version, with compressive straight resistance of 200 kPa
Produced by a company certified with systems: ISO 9001, ISO 45001 and ISO 14001. CE conformity marking on the entire line.




Insulation of flat, or ventilated/non ventilated pitched roofs under waterproofing bituminous mantles
---