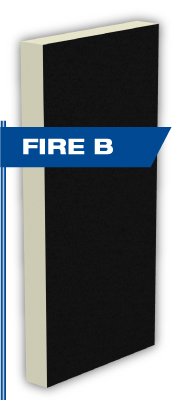 STIFERITE FIRE B a high performance insulation board manufactured from CFC or HCFC free closed cell Polyiso (PIR) rigid foam, covered on one side by a mineralized fibre glass facers, and the other, to be positioned on toward the side more exposed to the risk of fire, by fibre glass with additional mineral fibre named STIFERITE FIRE B facer®.
Specifically suggested for insulation of ventilated facades (it meets the requirements of the Technical Guide of "Anti fire safety requirements of facades in residential buildings" dated 15/04/2013).
The FIRE B panel is suggested for  Insulation of walls as in "ventilated facades". Insulation for all applications where elevated fire reaction performance as in organic material insulation is required.
Reaction to fire rating of: B s1 d0
Dimensions:
mm 600 x 1200
Standard Thickness:
from 20 to 200 mm
Produced by a company certified with systems: ISO 9001, ISO 45001 and ISO 14001. CE conformity marking on the entire line.