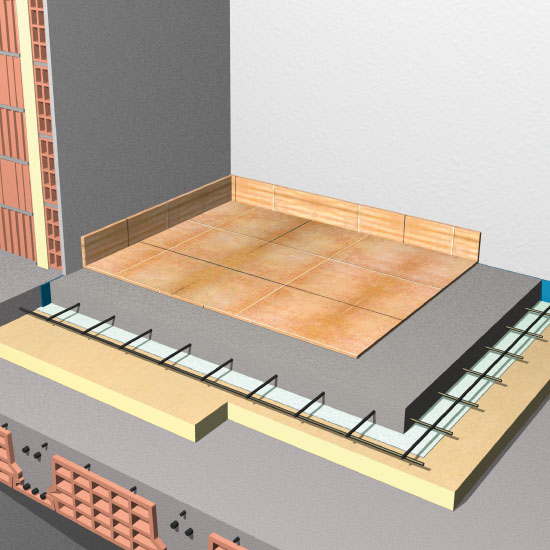 Technical Specifications
Lay down STIFERITE's GT panel
(alternative: STIFERITE Class S - STIFERITE GTE)
Vertical separator made of closed cells expanded polyethylene, 5-10mm thick, installed on the parameter and on the base of the elements in elevation.
Cement floor slab

Instructions and Guidelines
Indispensible for completing self-controlled heating systems
The Italian legislative norm DLgs.311 sets the maximum heat transfer of partition walls/floors of each apartment at 0,8 W/m²K. 
This  application allows the use of "floating" pavement, capable of attenuating foot noise, and the impact of sound from percussions. Also, folding the separating material (closed cells expanded polyethylene 5-10mm thick) vertically up to the base boards of a unit, may further insulate acoustically. 
The tables indicate the suggested thickness of Stiferite's panels based on
Climate Zones
Current legislative set limits of thermal transmittance
And the following composition of the structure:

Per ottenere un valore di trasmittanza termica U < 0,8 W/m²K sono sufficienti pannelli STIFERITE GT o STIFERITE Class S o STIFERITE GTE con 2 cm di spessore
Note: For different composition of structures or material, we suggest using the calculation program available online (see: Thermal transmittance and verifications of condensation with Glaser method)