Construction details
The good functional, aesthetic and service length result of the entire external insulation system depends on the proper application and fixing of the different layers together with a workmanlike installation of all fittings and fastenings.
For a detailed description of all possible critical points, see the pertinent section of the CORTEXA manual of which the most common details are hereby reported.
Internal and external edges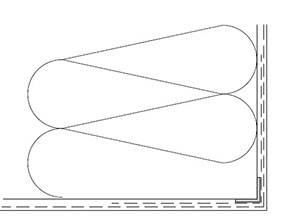 Should profiles for protecting the edges with overlapped glass fibre mesh and meshed corners be employed, the base-coat plaster must be applied along the width of the mesh side in order to drown the edge profile and the mesh side. The connection with the reinforcing mesh must overlap by at least 10 cm.