Benefits of the STIFERITE exterior insulation system
The STIFERITE thermal insulation consists of polyiso foam, a particular type of rigid polyurethane foam developed by the STIFERITE laboratories in order to best meet performance and operational market requirements.
The STIFERITE production range includes panels with different characteristics and types of coatings which have been developed to meet specific application needs. It is important to note that only panels specifically designated as suitable for external insulation systems must be used for ETICS applications.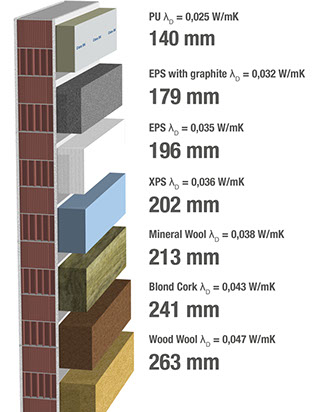 The best insulating performances
The main feature of the STIFERITE insulants is their low thermal conductivity which ensures obtaining a high performance insulation with reduced thickness.
Limiting the thickness and the weight of the insulating material leads to significant construction savings and helps to reduce the environmental impact of the intervention.
The figure compares the thickness necessary to obtain a Thermal Transmittance (U) of 0, 18 W / m2K for different insulating materials.
The thickness required to achieve this performance, using the most common insulating materials, is higher by a minimum of 25% to a maximum of 85% than that required by the STIFERITE insulating systems.
Other performances
In addition to the excellent insulating performance, other characteristics of the STIFERITE polyurethanes are particularly important in exterior insulation systems:
Mechanical properties


The STIFERITE insulating systems offer an excellent compressive strength performance, and perpendicular side tensile strength and tear resistance. This latter feature allows reducing the number of anchors needed to guarantee perfect fastening to the structure compared with alternative materials.

Waterproofing
Video Library
A video which shows the features and performance of the STIFERITE Class SK panel and its application methods within the ETICSystem is available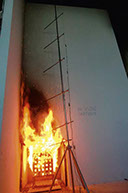 Excellent reaction to fire
B s1 d0
STIFERITE Class SK,
within the ETICS kit, it passes the Austrian ONORM 3800 part 5 test
(Equivalent to DIN 4102-20):
NO NEED FOR FIRE BARRIERS IN BUILDINGS UP TO 22 METRES HIGH
for further information see