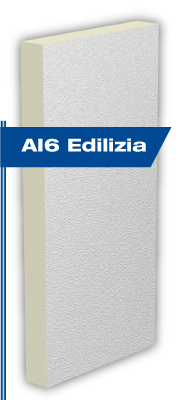 STIFERITE AI6 Edilizia a high performance insulation board manufactured from CFC or HCFC free closed cell Polyiso (PIR) rigid foam, covered on both sides by a 60 μm thick embossed aluminium facer.
The STIFERITE AI6 panel is suggested for walls and floors. Ideal for applications requiring a vapore barrier.
Dimensions:
mm 600 x 1200
Standard Thickness:
from 20 to 60 mm, on request also available up to 140 mm
Available in AI8 version, embossed aluminium facer of 80 µm.
Produced by a company certified with systems: ISO 9001, ISO 45001 and ISO 14001. CE conformity marking on the entire line..