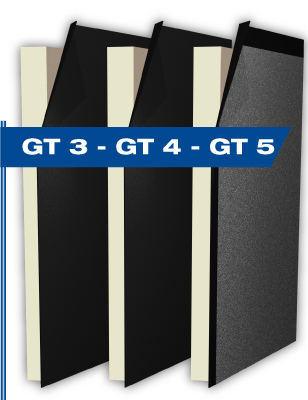 Bonded to STIFERITE GT panels with various type of bitumen membranes:
GT 3 bonded to bitumenous membrane polymer of 3 kg/m², reinforced in fibre glass
GT 4 bonded to bituminous membrane of 4 mm, reinforced in TNT polyester
GT 5 bonded to bitumenous membrane of kg/m², reinforced in TNT polyester and slate chips' finish

The bonded panels GT 3 - GT 4 - GT 5 are suggested for insulation and as a waterproofing primer of flat and pitched roofs.
Standard Dimensions:
1200 x1000 mm

Standard Thickness:
from 40 a 120 mm, including two 8 mm lateral selvedges
Produced by a company certified with systems: ISO 9001, ISO 45001 and ISO 14001. CE conformity marking on the entire line.